The following is a roundup of breaking news from around the Las Vegas valley.
UPDATE (6/15/20): The Clark County Coroner has identified the victim of the shooting on Cambridge Street as 19-year-old Dewon Davis. The cause of death was gunshot wound to the head, a homicide.
UPDATE: According to LVMPD on June 7 at approximately 8:43 p.m., patrol officers were dispatched to a ShotSpotter activation in the 3800 block of Cambridge Street. Officers located an adult male suffering from a gunshot wound. The male was transported to Sunrise Trauma where he was later pronounced deceased. The investigation by the LVMPD Homicide Section indicated the victim was walking in the parking lot of the apartment complex when he was confronted by two males. Police say the victim and suspects argued which later escalated into a physical confrontation. During the incident, one of the suspects pulled out a firearm and shot the victim. The two suspects fled prior to police arrival. The identification of the victim as well as the cause and manner of death will be released by the Clark County Coroner's Office. Anyone with any information about this incident is urged to contact the LVMPD Homicide Section by phone at 702-828-3521, or by email at homicide@lvmpd.com. To remain anonymous, contact Crime Stoppers by phone at 702-385-5555, or on the internet at www.crimestoppersofnv.com.
8:43 P.M.
Homicide detectives have responded to an incident at 3890 Cambridge Street. This is a developing incident, 13 Action News willl have more information on Good Morning Las Vegas on June 8.
LVMPD investigating a homicide near UNLV
6:14 P.M.
Nye County Sheriff's Office Deputies are on scene of a large structure fire in the 6000 block of Vicki Ann Road in Pahrump. Pahrump Valley Fire and Rescue is in scene fighting the fire. The home is reported to be unoccupied and neighboring properties have been evacuated. Please avoid the area.
9:10 A.M.
Las Vegas police are asking for help locating a missing 77-year-old woman who they say may be at risk or in danger. According to authorities, Mary Payton was last seen near the area of Duncan Drive and Helen Avenue at 10:30 a.m. She was last seen on foot and walked in an unknown direction.
Police say she may need medical treatment.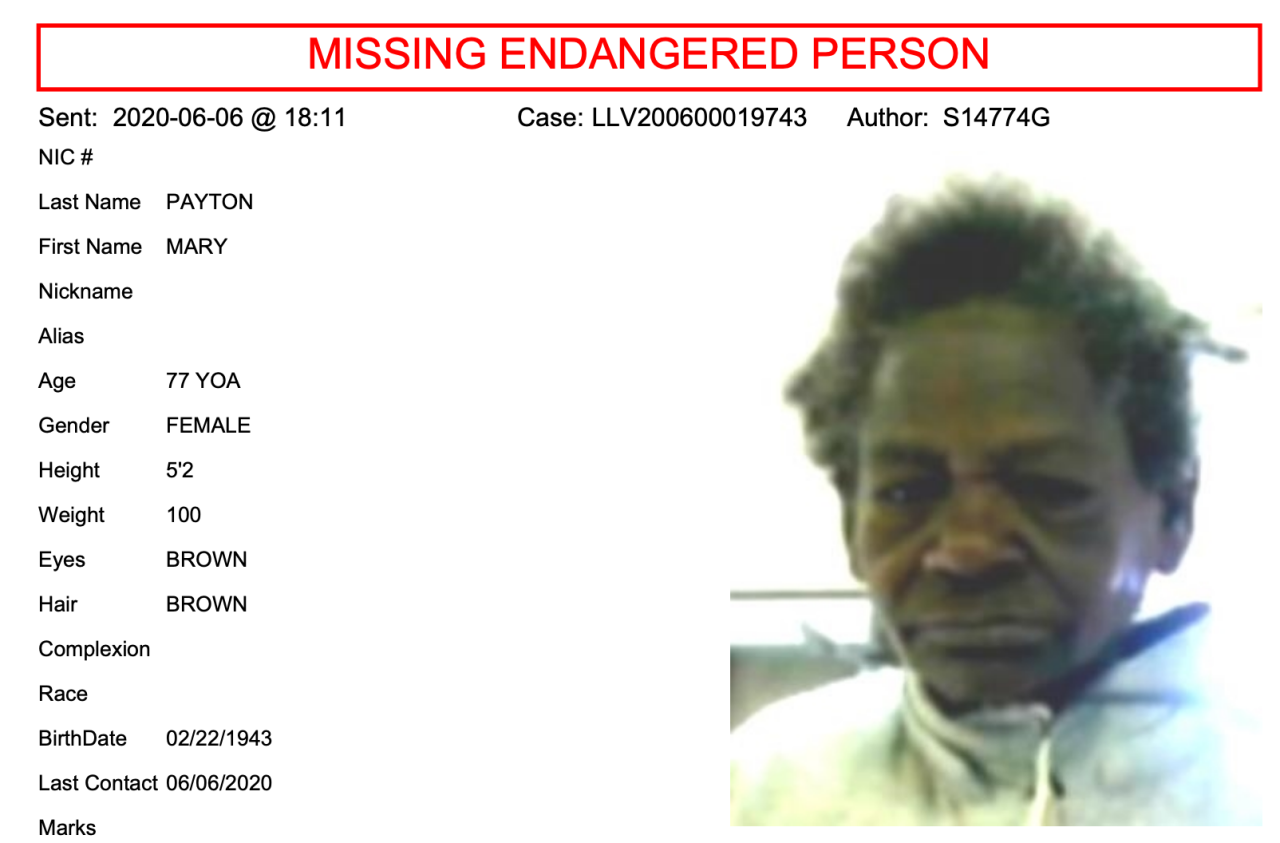 Payton was last seen wearing brown slacks and a white t-shirt. According to authorities, she may be disoriented and have difficulty remembering her name or address.
All Hospitals are asked to check their registries for the missing adult and notify the police immediately. It should be noted that HIPPA permits disclosure upon request by law enforcement and is authorized pursuant to 45 CFR Section 164.5.12.
Anyone with information regarding Mary Payton's Whereabouts is strongly encouraged to contact the Las Vegas Metropolitan Police Department at (702)828-3111 or Missing Persons Detail during business hours (702)828- 2907.
********************
WATCH: Click here to watch 13 Action News
Get more news on the KTNV Facebook and Twitter pages
SUBSCRIBE to get breaking news emails delivered to your inbox
Watch KTNV news and livestreams on Roku and Apple TV