LAS VEGAS (KTNV) — Many people have wondered if downtown's newest hotel-casino Circa would bring back the famous 99-cent shrimp cocktail.
Well, we finally have the answer and it is YES!
A 99-cent shrimp cocktail will be served at the 24/7 Saginaw's Delicatessen and will feature the same famous recipe and tulip serving dish that Golden Gate introduced back in 1959.
However, there is one slight catch. You are either going to have to stay up very late or get up very early to take advantage of the special price. It will only be served between the hours of 3 and 5 a.m. The rest of the time, it will be offered at $11.
The Golden Gate offered the cocktail for 50 cents originally but raised the price to 99 cents in 1991. It remained at that price until it was raised to $1.99 in 2008.
In 2010, California's Du-Par's took over and raised the price to $3.99 in 2013. Du-Par's closed abruptly in 2017.
Since then, 7th & Carson brought back the iconic cocktail in 2017 and still offers it with the purchase of any food item.
Fremont hotel-casino also offers a 99-cent shrimp cocktail at Lanai Express.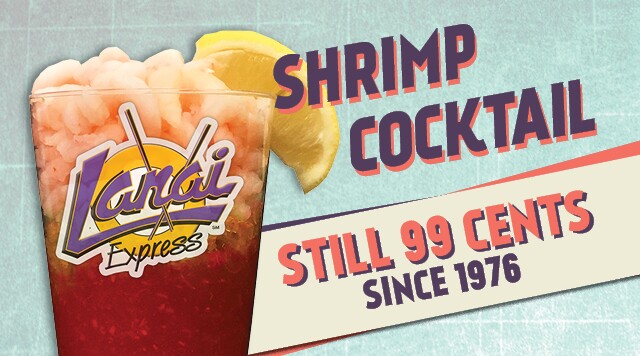 For a slightly more expensive, but less than $11 per cocktail, head to the Village Pub & Cafe at Ellis Island hotel-casino. Their version is $4.99 and is made with housemade cocktail sauce.
And if you happen to be near Boulder City, the Railroad Pass hotel-casino offers a rather tasty $1 shrimp cocktail at its casino bar.
If you are curious about Saginaw's, it was created by Michigan legendary Paul Sagninaw and this will be his first restaurant outside of the region.
A lifelong fan of Downtown Las Vegas, Saginaw has collaborated with Circa owner Derek Stevens to introduce a family-style deli touting sandwiches "so big, you'll need two hands to eat them."
Saginaw is known worldwide for the iconic Zingerman's Deli – an Ann Arbor institution he opened with partner Ari Weinzweig in 1982 – that's consistently ranked among the world's best sandwich joints. A college-aged Stevens used to line up early for the restaurant's buzzed-about sandwiches, and later opened the Coffee Stand at the D Las Vegas, proudly serving Zingerman's Coffee.
Saginaw's menu will include his famous Reuben and several more of the creative sandwiches for which he's known. Traditional delicatessen favorites will round out the menu, including matzo ball soup, onion rings, salads, latkes, chopped liver, breakfast specialties and more.