PHOTOS: Vegas Golden Knights-inspired items at local businesses
Businesses around Las Vegas have shown their support for the Golden Knights, including on food!
Carl's Donuts has Golden Knights-inspired donuts.
Photo by: Courtesy
OTORO Robata Grill & Sushi has transformed its signature dessert to commemorate Vegas Golden Knights' star goalie, Marc-Andre Fleury. The Pineapple Snow is made with a pineapple upside-down cake, pineapple shaved ice, vanilla bean gelato and vanilla sauce and is then finished with a chocolate hockey stick, puck and Golden Knights logo.
Photo by: MGM Resorts International
STRIPSTEAK guests sporting their favorite Golden Knights jersey will receive a complimentary Golden Knights-themed dessert.
Photo by: MGM Resorts International
The FleurBurger at Fleur by Hubert Keller is now available. The burger is stacked high with Wagyu beef, caramelized onions, grilled abalone mushroom and pomme frites on a brioche bun. Plus, guests wearing a Marc-Andre Fleury jersey who purchase the FleurBurger receive a complimentary beer.
Photo by: MGM Resorts International
The Still is celebrating the Golden Knights' quest for the Stanley Cup with the 24-Karat Gold Wing, crispy chicken wings tossed in their signature wing sauce and coated with edible gold; and a spirited, spiked milkshake mixed with Makers Mark, hazelnut liqueur, vanilla bean gelato, chocolate and caramel sauce, graham cracker dust, an Oreo cookie rim and topped with coconut foam.
Photo by: Anthony Mair
The Still is celebrating the Golden Knights' quest for the Stanley Cup with delicious Golden Knight-themed dishes such as the VGK Brownie Pucks, deep-fried brownies shaped into hockey pucks.
Photo by: Anthony Mair
Aurora celebrates the Vegas Golden Knights with The Golden Night cocktail available daily. It is made with Woodford Reserve bourbon, blackberry liqueur, agave, lemon juice and gold.
Photo by: MGM Resorts International
Guests can honor the Golden Knights' goalie with a decorative shake ($15). The adult milkshake is blended with Goldschlager, Fireball cinnamon whiskey, pineapple juice, vanilla custard ice cream, and topped with a rich, chocolate cupcake, chocolate covered Oreo and gold sprinkles.
Photo by: MGM Resorts International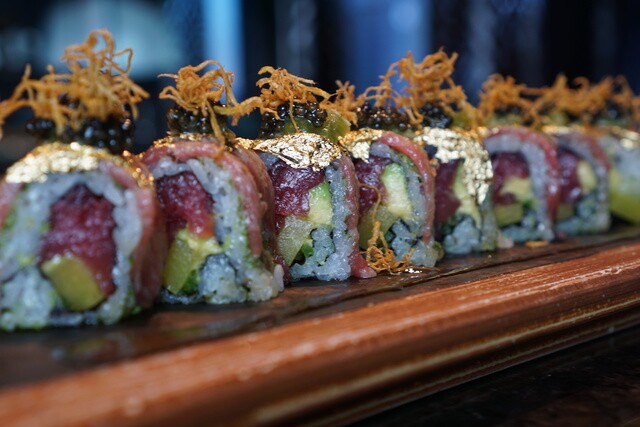 Celebrate the Vegas Golden Knights wins like a high roller with Zuma Las Vegas' newest off-menu item—the Golden Toro Maki. Priced at $125 a roll, it consists of chopped blue fin tuna, tempura flakes and takuan (pickled daikon), and topped with toro (fatty tuna), fried ginger, 24-karat gold leaf and oscietra caviar. Each roll contains 8 pieces and while it's not on the menu, it is available upon request.
Photo by: Zuma Las Vegas
Nothing Bundt Cakes has a Vegas Golden Knights bundt cake.
The Underground, The Mob Museum's new Prohibition history exhibition featuring a speakeasy and distillery, introduces the "Knightcap," its first cocktail in honor of the Vegas Golden Knights. A twist on a popular 1920s-era drink called The Gold Rush, the Knightcap features The Mob Museum's house-distilled moonshine infused with Ginger Jake, fresh lemon juice, egg white and brown sugar simple syrup served up in a classic coupe glass garnished with edible gold dust. Normally priced at $12, the Knightcap will be offered at half-price during all 2018 Stanley Cup Final games.
Photo by: Vox Solid Communications
Great Buns Bakery is showing its support for the Vegas Golden Knights with cookies.
Photo by: Great Buns Bakery
Vegas Golden Knights doughnuts debuted at Krispy Kreme in February and should be available at all Las Vegas locations through the playoffs.
Photo by: Krispy Kreme
Ethel M Chocolates offers the Vegas Golden Knights Classic Collection.
Photo by: Ethel M Chocolates
The McFleury burger is available at Naked City Pizza on Paradise.
Photo by: Christopher Palmeri
Manan Bakery made this special cake resembling a Vegas Golden Knights jersey.
Photo by: Manan Bakery
Freed's Bakery made a 300-pound cake for a Golden Knights player, which was featured on "Vegas Cakes."
Photo by: Freed's Bakery