UPDATE JAN. 31, 2020: Joseph Arquilla has been indicted for stabbing K-9 Hunter during an incident in October 2019. He is facing 14 counts, including cruelty to animals, resisting police officer, assault of a protected person and more.
UPDATE DEC. 4: The Las Vegas Metropolitan Police Department's K-9 Hunter, who was stabbed 13 times earlier this year by a suspect, was honored by the Las Vegas City Council on Wednesday.
UPDATE DEC. 3: The City of Las Vegas says it will recognize Hunter, the police dog stabbed 13 times during a November arrest, this week.
Hunter survived the attack and is recovering.
His recognition will take place during the 9 a.m. City Council meeting on Dec. 4 in Council Chambers on the second floor of Las Vegas City Hall, located at 495 S. Main St.
UPDATE NOV. 5: Police say that the K9 officer named Hunter was stabbed at least 13 times, according to newly-released court documents.
The incident happened when officers responded to a barricade situation near Eastern Avenue and Warm Springs Road.
After officers convinced Joseph Arquilla to come down from a roof, they released the dog. That is when the dog was stabbed.
Arquilla is facing several charges, including mistreatment of a police animal.
UPDATE OCT. 28: Las Vegas police shared an updated photo of K9 officer Hunter. He was stabbed while officers were working an incident over the weekend.
According to police, Hunter is recovering and doing well two days after being stabbed in the neck. He will continue to have check-ups this week to monitor his progress.
Authorities also identified the suspect involved in the incident as Joseph Arquilla. He was booked into the Clark County Detention Center, according to Las Vegas police.
Police also said they were lucky the attacker's blade broke at some point during the assault when it struck the dog's collar. This made it harder for the wounds to penetrate Hunter's skin.
The K9 has been on the job for 7 years and if recovery goes well, he is expected back in service in a few weeks.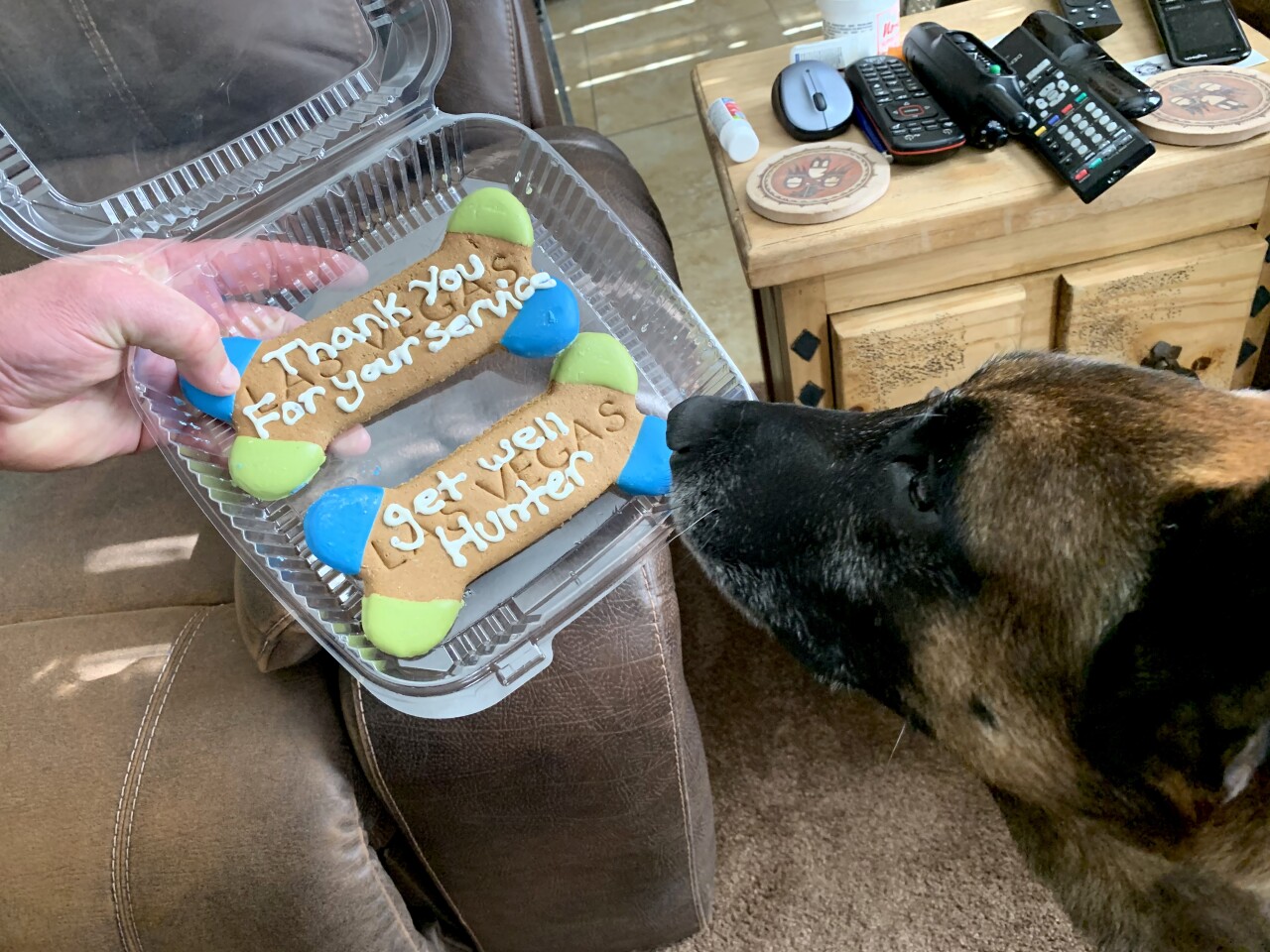 ORIGINAL STORY
LAS VEGAS (KTNV) -- Las Vegas police report that one of their K9 police dogs was stabbed multiple times by a suspect who had climbed onto the roof of a business located in the 7300 block of South Eastern Ave. near Warm Springs Avenue.
According to police officials, the incident began at around 12:26 a.m. Saturday when a man armed with a knife climbed up on the roof and refused to come down.
SWAT and negotiators were called to the scene.
Shortly after midnight, #LVMPD #K9 Hunter was stabbed multiple times while officers were taking an armed suspect into custody. #Hunter was rushed into surgery, and is now on the road to recovery. Thank you to the doctors and staff. 🙏
Get well soon Hunter! 🐶 pic.twitter.com/KdlP0RLGDl

— LVMPD (@LVMPD) October 26, 2019
Traffic was shut down in all directions at the intersection and incident ended at around 5:45 a.m. when officers utilized the K9 to take down the suspect.
That is when, officials said, the dog was stabbed by the suspect.
The K9 was transported to a local veterinary hospital in serious condition but was expected to survive.